Non-PFSA Tetramer Membranes
- For hydrogen generation, fuel cells, and solar fuels
Tetramer
Ionomers / PEM Membranes
Over the last 15 years, Tetramer has developed a variety of custom ionomers, proton exchange membranes (PEMs), and other specialty membranes. Applications include hydrogen fuel cells, water vapor transport, electrolyzers, and solar fuels generators.
Advantages of Tetramer ionomers include tailorable properties (backbone architecture, IEC, molecular weight, water uptake/swell, H2 and O2 permeability) as well as cost and resistance to chemical degradation. Our expertise covers custom ionomer design and synthesis, scale-up, membrane configuration design and casting, and manufacturing process cost analysis.
We collaborate with national laboratories, academic institutions, and leading commercial device manufacturers to integrate our membranes into their devices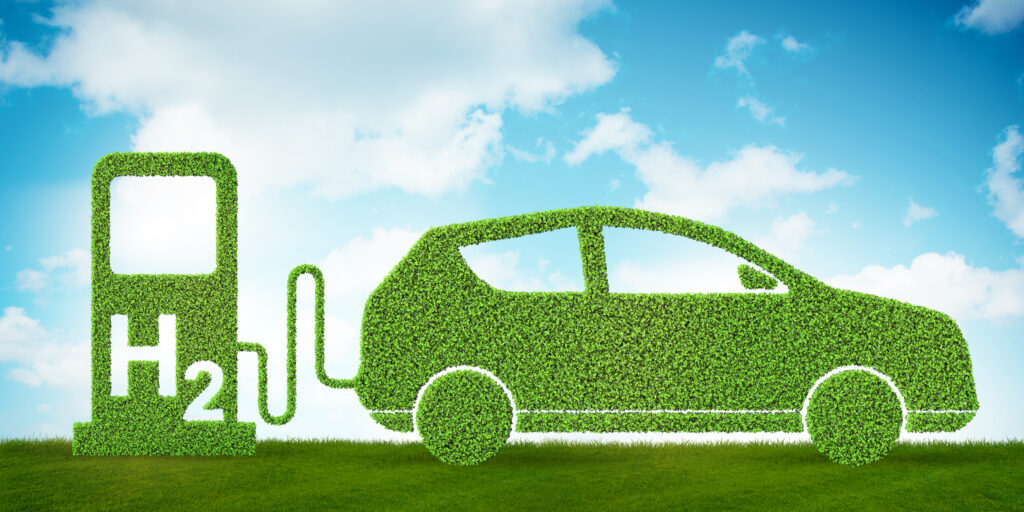 Tetramer is pursuing further collaborations in this area. For additional information, please provide your contact information below and one of our team members will get back to you shortly.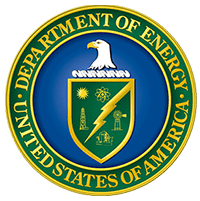 In addition to our proprietary industrial partnerships, the U.S. Department of Energy is currently funding continued development of Tetramer membranes.
August 2023 Announcement: Sustainable recovery and recycling of fuel cell and electrolyzer materials funded by DOE Phase I DE-FOA-0002903, Topic C56-11a
As the world looks toward renewable energy to achieve zero-carbon energy solutions, hydrogen power is poised to displace environmentally harmful fuel sources and toxic battery banks. However, ensuring this transition is seamless and widely adopted requires a reduction in current material costs.
In this project, Tetramer is establishing routes to recycle the two active components of hydrogen fuel cells and electrolyzers – membranes and platinum group metal (PGM) catalysts. These materials are expensive to produce, and decommissioned devices are difficult to dispose of; but recycling efforts promise a chance to rescue materials at the end of their life cycle and close the manufacturing loop – preventing waste, increasing supply, and driving down costs. This approach will turn otherwise hazardous waste into an economic opportunity, yielding new jobs and bolstering the sustainability and affordability of a much-needed green technology.  
Tetramer Research Scientist Matt Wasilewski said, "Leveraging our team's considerable membrane R&D expertise, Tetramer is uniquely suited to the development of recovery and recycling techniques for these membranes and catalysts. We look forward to the successful completion of Phase I efforts demonstrating the feasibility of extraction and ensuring recovery can be achieved with minimal cost and waste. In Phase II, we plan to develop additional routes for recovering valuable materials as well as recycling paths for membrane components such as supports, additives, or fillers."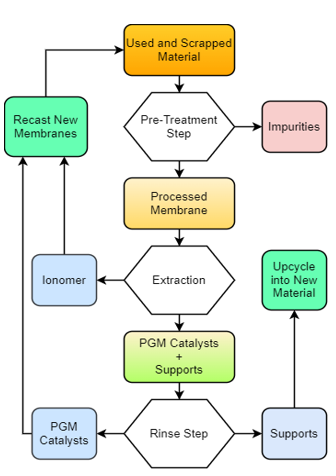 Membranes for Hydrogen Production
Improved Membranes for Solar Fuels Generators
Like plants, solar fuels generators use the sun's energy to produce hydrogen from water or carbon-based fuels from water and CO2. Custom-designed ion exchange membranes are a critical component in solar fuels generators. 
Tetramer's membranes are being developed to significantly improve the efficiency and commercial potential of this developing technology.

Success of this work is an important step towards realizing the goal of achieving cost effective renewable fuel production. The use of solar generated fuels for industrial gas applications/chemical feedstocks, transportation fuels, and power backup/storage would result in a reduced dependence on fossil fuels and limit the associated economic, political and environmental issues related to their extraction, refinement, supply and final use.  
As part of our development of improved membranes for Solar Fuels Generators, Tetramer has enjoyed an invaluable partnership with the scientists of the
Xiang Research Group at Caltech
for the last two years. In collaboration with Tetramer, Dr. Xiang's research team seeks to develop materials and devices for stable, scalable and cost-competitive generation of H
2
directly from sunlight.
Tetramer and Caltech Continue Collaboration to Enable Green Hydrogen Production Under DOE $1.15 Million R&D Award - July 2022 Announcement
Membranes for Hydrogen Fuel Cells
DOE Phase II - Improved Ionomers and Membranes for Fuel Cells
Hydrogen fuel cells are one of the most promising technologies for renewable clean energy production, however current membrane components fall short of important cost and performance targets. 
Tetramer is developing custom membrane materials to address current performance and cost requirements and enable broader commercialization of high performance fuel cells.
As part of this work, we are working to further develop and commercialize novel ion conductive polymers produced in our laboratories for use in proton exchange membrane (PEM) hydrogen fuel cells. Success of this work would be a significant step toward clean energy production in two of the largest energy markets, transportation (e.g. automotive and warehouse material handling equipment) and stationary power (e.g. primary and back-up power generators).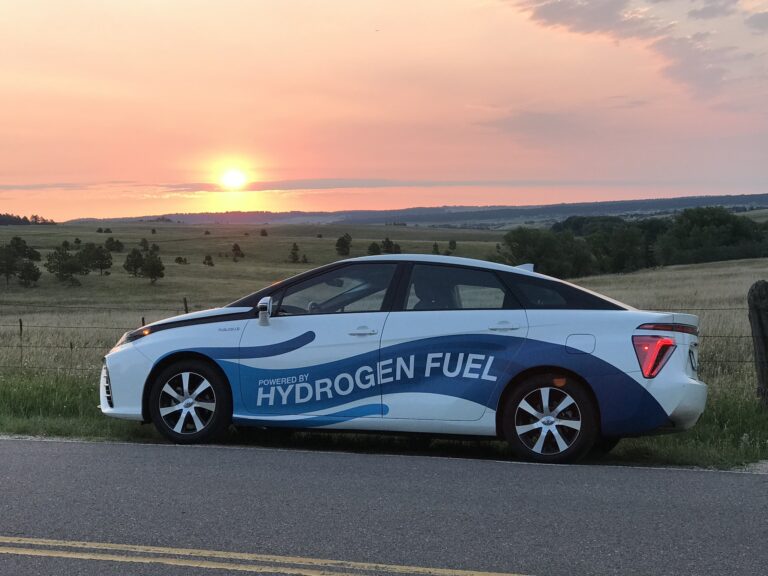 During both Phase I and Phase II, Tetramer has collaborated with the National Renewable Energy Laboratory (NREL). In addition, we are working in close partnership with a leading fuel cell device manufacturer to design and produce systems with improved performance and reduced costs compared to current technology.
For more information about R&D Materials
or to learn about partnerships in ongoing programs
We have various programs and products in all stages of development from concept to manufacturing. Products not yet ready for full-scale production may be available in research quantities under Non Disclosure Agreements (NDA) and/or Materials Transfer Agreements (MTA).
In addition, we are always open to partnership opportunities with other groups to advance the development of our ongoing programs.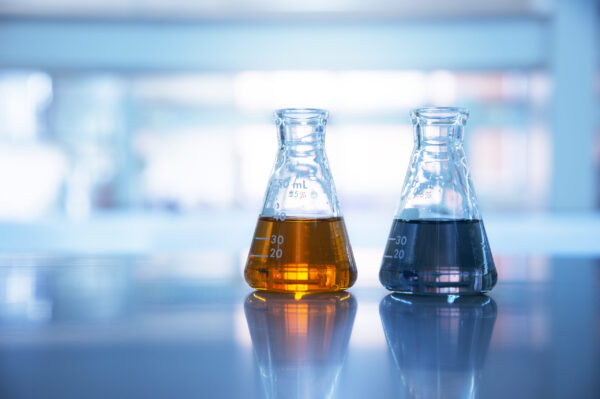 For more information about
Tetramer's Research capabilities and technology portfolio